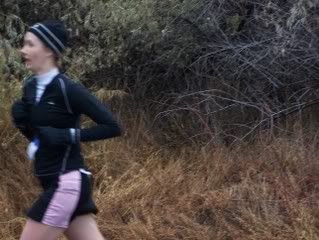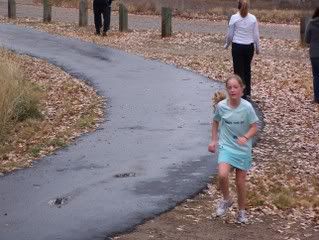 I'm a few days late with notes on this race, but then again, I'm always behind on blog race reports, so for me that's right on time.
This was the second annual running of our city's turkey trot. Strangely enough, we never had a local race on turkey day even though this is the largest city on the western slope of Colorado. The race took place about two minutes from my doorstep so there was really no reason NOT to be there. Being that I'm between marathon training cycles, and that almost all 5K's around here are events where I don't race, and instead pace one or the other of my two oldest girls, I figured that this was a good rare opportunity to throw caution to the wind. My plan was to run as hard as I could from the start and hang on as long as I could.
I did not run the race last year as we were in Park City, Utah, visiting friends. I had been told, though, that it was a pancake flat and fast course covering the roads and paved trails in our riverfront trail and Connected Lakes area. Awesome-today might be a PR day for me. At least, that's what I was thinking beforehand.
My oldest daughter and I lined up for the start on the overcast, cool, but not yet rainy day. We'd decided to lone-wolf it this one time, so we wished each other good luck and were off a few minutes later down the road near the physical therapy clinic where all the runners, friends and family gathered for the race. First mile: 7:00. So far so good.
Well...imagine my surprise when a course marshall directs us off the road and onto muddy, wood chippy, slightly rolling single track trail through the woods. (Note to self....take a look at the course map next time.) This slows me down a bit but it's a good thing because I took the opening mile a bit too fast. It was a bit more humid than I'm used to in our area due to all the rain overnight, and I didn't exactly feel like doing jumping jacks and backflips. Mile 2: 7:38.
When I re-entered the paved trail portion of the route, I was remembering why I don't love the feeling of an all-out 5K effort, and why I leap at the chance to pace the girls whenever asked. Luckily, I could hear the announcer on the mic at the finish so that was enough motivation to say "suck it up, sister," and keep moving along. Mile 3: 7:40. When I saw the finish approaching, I tried to kick it and lengthen that stride as much as possible. Last .1 split was :38. The guys at the finish yelled "23:05" as I finished, which would've been a one second PR for me. My Garmin, though, read 23:06, and when I got my time card it said 23:10. The sub-23 mark eluded me again, but I'll take that on what was a variety-filled cross country course, NOT a pancake flat road race.
I was handed a sweet potato pie at the finish, and my very intelligent husband suggested that we put that in the freezer to save for Christmas (and save me from myself-I would've wolfed that thing down and nobody else in the family likes sweet potato pie). I watched for my 9-year-old daughter to come in, and got to watch an exciting three-way race to the finish between her, the daughter of a friend of mine, and some third girl who was unaware that she now had a target on her back as the other two worked to catch her at the finish. Alexis finished about thirty seconds faster than the last 5K she'd completed a month earlier, and she was quite proud of herself because this course was more challenging and without the wall-to-wall friends and family of GOTR races. She had some tall runner step in front of her approaching the finish, so her Dad, AKA the family race photographer, wasn't able to catch the action, but she was nice enough to re-create the big finish for Dad's camera as she cooled down a few minutes later.
All in all, we had a nice time at the race, and I can't think of a better way to get the metabolism revving prior to a day of eating and football watching. And now, back to my regular programming-the beginning of training for my spring marathon and the quest to eliminate six seconds over the course of 26.2.