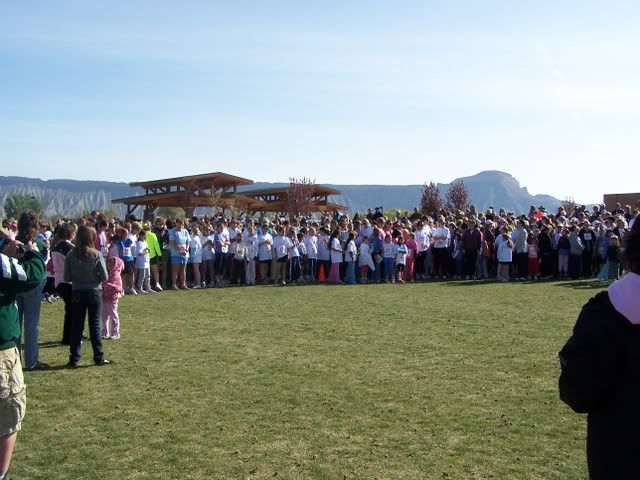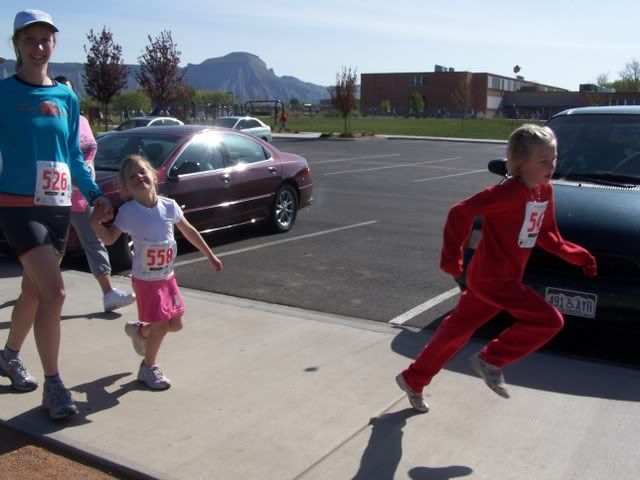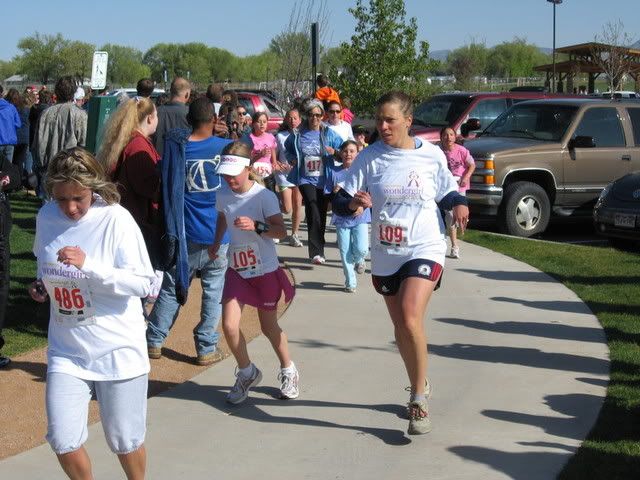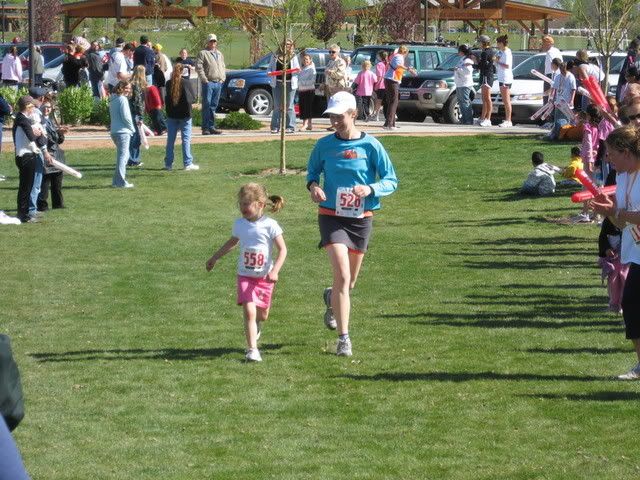 Alexis had been working toward this for the past several months as part of her school's GOTR team. Until a few weeks ago, I knew I'd also be running, but assumed I'd either be pacing Alexis, or running for myself. Then, 5-year-old Kaia, who used to pitch awful fits during family walks a year or two back ("I'm tired! My legs hurt! My butt itches! Let's go home! I'm going to scream my head off, okay?") started begging to do it as well.
I thought, yeah, right, we'll do one practice walk/run session and she'll say never mind. Much to my surprise, she did one with me and said she was still really wanting to do it. So, I signed her up and became an official kiddo pacer. Her only serious question was "What happens if I'm last? Do I still get a medal?" I said yes, Kaia-EVERY finisher gets a medal. "Then I want to do a 5K!" She said excitedly.
So, last Saturday, we showed up at Long's Park here in Grand Junction at about 8 a.m. on a sunny but cold morning. We chatted and tried to keep warm. A few minutes prior to the start, everyone headed over to the starting area. I quickly wished Alexis good luck (this was her first race pacing herself without an adult), waited with Kaia, and then we were off!
Kaia and I had planned to walk three/run three, but she said she wanted to start off running...so mom followed along. I figured if she wanted to run more of it than those intervals I wasn't going to stop her. We hit the end first mile (which went all the way around the park) at about 14 min.
The second mile went around the back of the high school, and by now she definitely wanted to stick to those 3 min intervals, but really did run all out on those run minutes! We picked up one of A's classmates who was walking and jogging, and asked if she could join us, and the three of us more or less stuck together to the end.
As we finished the second mile and began the third, we saw Alexis come trotting up to us along the side of the course-she was finished and came to yell a little bit of support in her sis's direction.
The last mile was another loop around the park, and by now Kaia was definitely starting to tire out and wanting to mostly walk, but she'd get into some little bursts of running that still had quite a bit of pick-me-up.
We had been mostly walking from miles 2.5 to 2.8, but I could see the balloons at the finish, told her that was the end, and asked if she wanted to run to the end. She pretty much took off right then so I chased behind her.
In a hilarious, Forrest Gumpesque moment, she enters the final stretch of cheering crowd and suddenly turns off the course, running the wrong way down another path. EVERYONE including Kaia laughs at this as the course marshall and I are waving her back toward the finish, and we continue on our way. She crossed the finish at 43:39.5, 30 out of 50 in 8 and under girls, and youngest kiddo in the race (this surprised me, as there usually is a handful of 4, 5, and 6 year old younger sibs walking/running at these things). She was pretty thrilled with herself for finishing a 5K and asked if we could do another some time. I am still shaking my head in pleasant disbelief that this is the same child who used to throw those massive, embarrassing fits when we'd try to go for family walks back when I was pregnant with Ava-and really loved watching that look on her face as she ran ran to the finish.
As for Alexis, she had a goal of 27:00 going in to this. With a previous PR of 28:XX, my realistic side said she had a good chance of coming close, but probably wouldn't surpass that. She stuck with her coach (great coach and role model, both as a runner and person/teacher in general) most of the way, and more or less made her goal, finishing in 27:02.4. That was a good 1:45 off her PR, 1st in the 8 and under AG, and 30 out of 559 overall.
She was SO stoked and although I obviously wasn't running WITH her, it sounds like she kept a pretty consistent pace most of the way through. Her classmates all seemed to have a great time, too. One of them hung with Alexis for a good part of the race, and when I was talking to the girl and her mom after, they both said to keep them posted on any upcoming 5K's because she'd really loved doing the race, and wanted to do more. It was very cool to see the birth of a runner/love for running in another kid.
So, that was it for this round! Next weekend, we're dressing Daddy up for the Red Dress Run, a men-only (okay...they won't really shoot women who want to participate) event that comes the week after the girls/women only 5K. Prizes for best dress, best accessories, tightest dress, and-oh yeah-running in said dresses, accessories and shoes. You'd better believe I'm going to be there, camera in hand, to catch that action.